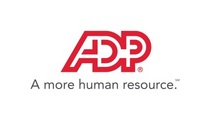 ROSELAND, NJ -- (Marketwired) -- 12/18/17 -- ADP®, which pays 1-in-6 U.S. private sector workers and moved more than $1.85 trillion in client tax, direct deposit and related client funds in fiscal 2017, is available for comment on the various tax changes currently being debated on Capitol Hill. In particular, ADP can provide analysis on how changes will impact employees' pay and how employers will need to adjust in 2018 if the proposals are signed into law.
To connect with an ADP spokesperson, please contact Michael Schneider, Vice President of Public Relations at Michael.Schneider@adp.com or 973-868-1000.
ABOUT ADP (NASDAQ: ADP):
Powerful technology plus a human touch. Companies of all types and sizes around the world rely on ADP's cloud software and expert insights to help unlock the potential of their people. HR. Talent. Benefits. Payroll. Compliance. Working together to build a better workforce. For more information, visit ADP.com.
The ADP logo, ADP, ADP A more human resource., ADP National Employment Report, ADP Small Business Report, ADP National Franchise Report and ADP Research Institute are registered trademarks of ADP, LLC. All other marks are the property of their respective owners.
Copyright © 2017 ADP, LLC. All rights reserved.
Media Contact:
Michael Schneider
ADP, LLC
Michael.Schneider@adp.com
973-868-1000